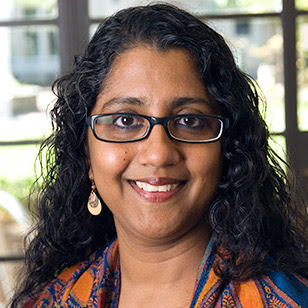 The conference will open with a colloquium featuring Dr. Radhika Parameswaran on Oct 16 at 4pm. Dr. Parameswaran is a Professor at the Media School at Indiana University. She is currently the editor of Communication, Culture, and Critique, and her publications include a 2013 Wiley-Blackwell edited encyclopedic volume on global audience studies, two monographs, 24 articles in leading journals in communication and media studies, and thirteen book chapters. Abject Bodies, Abrasive Critiques: Peeling the Transnational Skins of Desi Colorism and Racism A front-page story in the New York Times reported on a strange phenomenon in Qingdao, China, where sun protection gear, including colorful neon ski masks for women beachgoers, have been retooled as technologies of beauty to keep the nightmare of bodily abjection, the darkening of light/white skin, at bay. Feminist scholars have documented the beauty industry's transnational cultural production of smooth, mobile skin that has "amnesia," the capacity to erase the passage of time and the onslaught of nature, and that can defy the contaminating encroachments of locally-rooted ethnic, racial, and biological affiliations. But, what about those abrasive stories of dissent authored by scattered individual and institutional actors that contest the abject conditions of the seemingly repulsive dark desi body? Using India as a case study, Dr. Parameswaran's research engages postcolonial scholar Raka Shome's call to disentangle discussions of skin color and race from the "boundaries of the nation state" and to offer an alternative to the dominant paradigm in critical scholarship that often "ends up shoring and maintaining a U.S. centered ethos in our understanding of race." Her presentation will examine the ways in which the imaginative media tactics of multi-sited, affirmative and activist actors weave together an emergent global civil society centered on transforming the troubled epidermal politics of the desi body.
Thursday Oct 16 - (Conrad A. Elvehjem Building, Room L140)
4:00-5:30pm
Opening Colloquium
"Abject Bodies, Abrasive Critiques: Peeling the Transnational Skins of Desi Colorism and Racism" Radhika Parameswaran, Indiana University
Dinner on own
Friday Oct 17 - (Nafziger Room, Vilas Hall 5055)
9:00 - 9:15
Welcome & Opening Comments
Beverages and light snacks will be available 9:15 - 10:45
Television in a Post-_______ Moment
Alfred Martin (University of Texas at Austin), "Black Gayness in White Televisual Spaces" Taylor Miller (University of Wisconsin-Madison), "Mediating White Trash Feminism" Myra Washington (University of New Mexico), "Hybrid Cyborgs: Situating Mixed-Race Bodies in our Post-Racial Future" Chair, Shilpa Dave 11:00 - 12:30
Race and Media Industries: Issues of Labor, Production, Representation and Narrative
Kristen Warner (University of Alabama), "Notes on How People of Color Circumvent Hollywood Precarity" Aymar Jean Christin (Northwestern University), "Indie Innovation in Representation: Rewriting Diversity in Drama Series Development" Jillian Baez (College of Staten Island-CUNY), "Lifetime's 'Television for Women': Devious Maids and Latina/o Audiences" Madhavi Mallapragada (University of Texas at Austin), "From Minority Markets to the New Multicultural Mainstream: Emergent Narratives of Race and Ethnicity in US Media Industries" Chair, Madhavi Mallapragada 12:30 - 1:45
Lunch on own
1:45 - 3:15
Racialized Communities and Digital Networks
Arely Zimmerman (New York University), "Transmedia Testimonio: Undocumented Youth's Mobilization Strategies in the Digital Age" Andre Brock (University of Michigan), "Race and Technoculture: Policing and/of Black Twitter" Sarah Florini (Old Dominion University), "Black Digital Networks and the Rejection of Respectability" Lori Lopez (University of Wisconsin-Madison), "Asian American Hashtag Activism and Cultural Citizenship" Chair, Lori Lopez 3:30 - 5:00
Workshop on Teaching about Race & Media
Hemant Shah (University of Wisconsin-Madison) Radhika Parameswaran (Indiana University) 6:00pm
Reception (Jonathan Gray's Home)
Saturday Oct 18 - (School of Library and Information Studies Library, 4th Floor, Helen C. White Hall)
9:00 - 10:30
Circulating Media Cultures: Formats, Narratives, and Movements in the Global Tech World
Sarah Mackinnon (University of Wisconsin-Madison), "Modernizing Bodies through Female Circumcision Discourse"
Tony Tran (University of Wisconsin-Madison), "Platforms, Protocols, and Diasporic Identities"
Shilpa Dave (University of Virginia), "Mediated Masks and Racial Accents: Heroes, Villains, and
the Global World in Science Fiction Blockbusters"
Aswin Punathambekar (University of Michigan), "Life and Rumors: Racial Violence and
Everyday Life in Digital India"
Chair, Awsin Punathambekar
10:45 - 12:15
Places/Spaces and Politics
Khadijah White (Rutgers University), "Missing White Women, Missing America" Jason Sperb (Northwestern University), "Auto-Biographical Impulses: Reflective Nostalgia, Archival Memories and 'Ruin Porn' in Documentary Visions of Detroit" Vincent Pham (California State University-San Marcos), "Partnering and Participating with Local Race-Based Film Festivals as a Pedagogical Tool" Timothy Havens (University of Iowa), "ABC's Roots, the Rise of Reaganism, and the Political Limits of Broadcasting" Chair, Timothy Havens 12:30
Brat lunch on the Terrace